You don't need us to tell you that we find ourselves in very strange times. With the current global situation as it is, we are all having to suddenly find new ways to live, work and – as difficult as it sometimes seems – have fun. One thing that hasn't changed, though, is the availability of our high-quality range of drinks; you can still buy all your Lyme Bay and Jack Ratt favourites online and get them delivered straight to your door.
Another small positive to have come out of this crazy situation is that there has been a recent surge in home baking, as people faced with café and restaurant closures find ways to get creative in their own kitchens. In this article, we will share three delicious recipes that you can make with a selection of easy-to-source ingredients and, of course, an all-important drop (or two) of your favourite Lyme Bay tipples!
Cider bread
Cider (200ml) – take your pick from our range
Strong white bread flour (450g)
Fresh yeast (10g, plus a pinch)
Sponge mixture (160g) – this is the result of step 1 of the recipe below
Wholemeal flour (150g)
Honey (50g)
Salt (10g)
Making your own bread is always rewarding, but even more so when it includes a hint of your favourite cider!
1) Mix 100g of the bread flour and a pinch of the yeast with 60ml of water, cover, then set aside on your kitchen counter until tomorrow.
2) The next day, combine this with your remaining ingredients and 100ml of water in a mixing bowl.
3) Spend 10 minutes kneading into a dough, until it's smooth.
4) Put back in the bowl, cover, then set aside for 90 minutes, preferably in a warm place. This should cause
5) Put a bit of flour onto a work surface, then shape your dough into a bloomer on it. Place onto a greaseproof paper-lined tray, cover, then set aside on your kitchen counter for another hour.
6) Pre-heat the oven to 220° / gas mark 7 and bake for 35-40 minutes or until golden, then cool for 30 minutes and enjoy. If you want your family to be doubly impressed, you could cut a fancy pattern into the dough before you pop it into the oven.
Banana rum friands
If you've had banana friands before, you'll know that they are one of the most deliciously moreish snacks around. However, we've found a way of making them even better – just add rum!
Lugger Rum (50ml)
Condensed milk (1 tin)
Salt (2 tsp)
Egg whites (x5)
Butter (125g)
Ground almonds (50g)
Plain flour (75g)
Baking powder (1 tsp)
Muscovado sugar (50g)
Icing sugar (75g)
Finely chopped bananas (x2)
Dried banana slices (or you can use fresh if unavailable)
1) Pre-heat the oven to 220° / gas mark 7, then pour the condensed milk into an oven-proof dish and sprinkle with salt. Cover, then place that dish into a larger dish. Fill the larger dish with water, then bake for two hours until a golden caramel has been produced.
2) Turn the oven back to 160° / gas mark 3. Melt the butter and use some of it to line 24 friand moulds. Set the remaining butter aside. If you don't have any moulds, using cupcake liners (alternatively fashioning your own from parchment paper) or a greased muffin tray will be sufficient!
3) Beat the egg whites until frothy, then combine with the almonds, muscovado sugar, icing sugar, flour, baking powder and remaining butter. Beat the mixture, then add the two chopped bananas. Set aside for half an hour.
4) Once ready, spoon the mixture into your friand moulds and bake for 20-30 minutes or until golden. Take out, brush each friand with a little bit of rum, then set aside to cool.
5) Mix 100ml of the caramel with the remaining rum, drizzle over the friands and top with the banana slices.
6) Share or devour.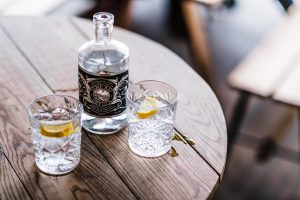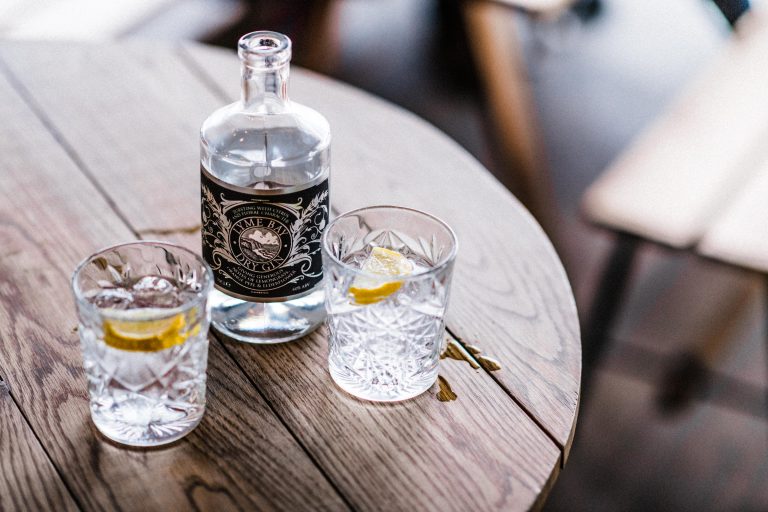 Photo credit: Matt Austin Images
Gin and tonic drizzle cake
This recipe combines gin and cake… need we say more?
Lyme Bay Dry Gin (8 – 9 tbsp)
Tonic water (5 tbsp)
Unsalted butter (250g)
Caster sugar (325g)
Self-raising flour (250 g)
Medium eggs (x5)
Icing sugar (200g)
Zested limes (x2)
Lime slices
1) Pre-heat the oven to 180° / gas mark 4, then combine the butter and 250g of caster sugar, mixing until fluffy.
2) Add the eggs, flour and zest of one lime, then mix it all up together.
3) Pour the mixture into a greaseproof paper-lined cake tin and bake for 40-45 minutes.
4) Take the cake out of the oven and set aside before adding the remaining caster sugar, the tonic water and five tablespoons of the all-important gin to a small saucepan.
5) Heat the mixture on a low-medium setting on the hob, stirring constantly until the sugar dissolves.
6) Drizzle the mixture over your cake and set it aside to cool.
7) Put the icing sugar into a bowl and slowly add your remaining gin until the mixture is thick but still pourable.
8) Pour the icing mixture over your cake, sprinkle over the remaining lime zest and, for the final touch, arrange some slices of lime on top.
We hope that the above ideas may have given you a little inspiration for your next 'lockdown baking' session and that, most importantly, you and your family all stay safe and well throughout this most difficult of times.
Don't forget that we can still be found on Instagram, Facebook and Twitter, and would love to see pictures of your completed recipes – or feel free to share some of your own creations.