With English wine growing in popularity and the UK increasingly seen as a premium wine-producing region, it'll come as no surprise that here at Lyme Bay Winery we absolutely love English Wine Week – which this year runs from 17th to 25th June
2023.
Lyme Bay Cellar Door English Wine Week tastings
English Wine Week gives us the chance to celebrate the success of English wine and introduce even more wine enthusiasts to our award-winning range, with wine tastings at the Lyme Bay Winery Cellar Door here in Shute, near Axminster in Devon. Join our friendly Cellar Door team for a guided tasting of our core range of award-winning Lyme Bay still and sparkling wines: Bacchus, Chardonnay, Pinot Noir and Brut Reserve.
This English Wine Week we are running two tastings per day, on the following dates:
Tuesday 20th June, 10.30am and 2pm
Wednesday 21st June, 10.30am and 2pm
Thursday 22nd June, 10.30am and 2pm
Tastings take about an hour and cost just £10 per person. We limit them to eight people per session: email [email protected] to book your space and
then pay at the door when you arrive.
As an extra treat, visitors to our Cellar Door also get a 20% discount across all our still and sparkling English wines throughout the whole of English Wine Week*. Get to know our award-winning wines
Here at Lyme Bay, we source the best grapes from the best vineyards across the UK to make the best English wines, with many of our wines taking home the top taste awards in the UK and internationally.
Recent wins include:
Gold for our Chardonnay 2021 at the London Wine Competition
Gold and Trophy for our Martin's Lane Chardonnay 2020, and Silver for our Pinot Noir 2021 at the International Wine Challenge
Silver for our Pinot Noir 2021 at the Decanter Wine Awards
And another silver for our Pinot Noir 2021, Bacchus 2021, and our Classic Cuvée 2017 from Wine GB
Lyme Bay Single Vineyard range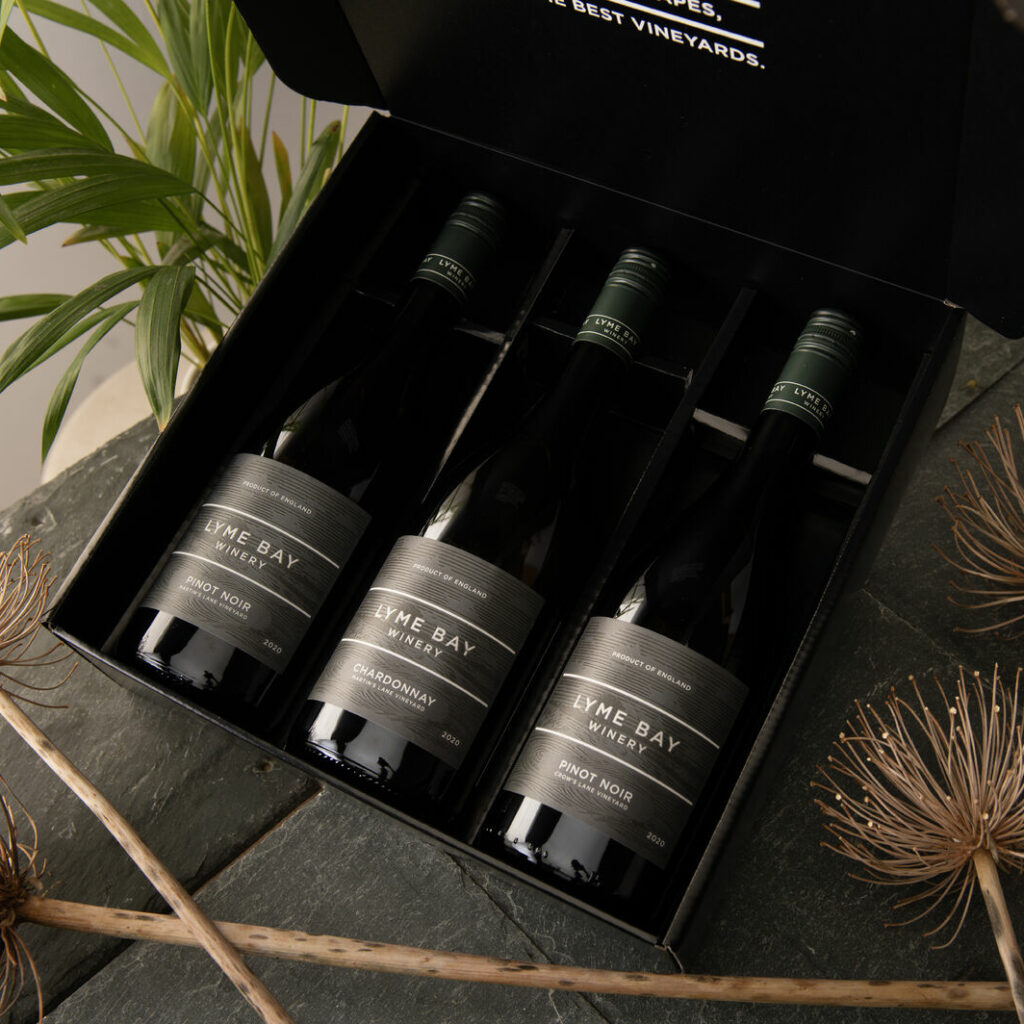 We are particularly proud of the success of our Martin's Lane Chardonnay 2020, as it showcases all the hard work that we – and our vineyard partners – are putting into our exclusive, newly released Single Vineyard Range.
Sourced exclusively from Martin's Lane Estate and Crows Lane Vineyard in the Crouch Valley in Essex, all three of our Single Vineyard English wines began life in the beautiful long, hot summer of 2020, which enabled the grapes to fully ripen on the vine, resulting in an intensity of flavour and body that inspired us to create this range.
Our elegant, dry and complex pale gold Martin's Lane Estate Chardonnay brings the aroma of toasted almonds, ripe fruit and a smoky edge. A truly classic style of Chardonnay, focussing on richness and body, it delivers red apple and lemon citrus flavours with a long buttery and almond finish.
An elegant, refined and complex ruby red wine, our Martin's Lane Estate Pinot Noir has a nose of ripe cherry, dark chocolate and cedar, tempting the palate with cherries, blackcurrant and some lighter raspberry, underpinned by toasty vanilla and subtle spice.
A rich, refined and complex red, our Crow's Lane Vineyard Pinot Noir is deep ruby in colour with a nose of black cherry, blackcurrant and smoke, and a deep palate of damsons, mulberry, blackcurrant and raspberry, underpinned by toasty vanilla and spice.
English Wine Week discounts
To celebrate English Wine Week 2023 we are offering a 20% discount on all English wines on our website and at the Cellar Door from 17th to 25th June*. If you can't visit in person then head to our online Cellar Door to take advantage of our English Wine Week discounts, or get in touch with our friendly team by email at [email protected] or call us on 01297 551355.
In the meantime, if you'd like to know more about Lyme Bay Winery and how we make our award-winning English wines, check out our 67 Pall Mall TV channel where Lyme Bay managing director and winemaker James Lambert talks about our winemaking ethos and techniques.
And as always, we love hearing about your favourite Lyme Bay English wines so do keep sharing with us on Instagram, Facebook and Twitter.
* Ends midnight Saturday 25 th June 2023. No code is needed – discounts are automatically applied to qualifying purchases. Excludes Single Vineyard range.